Sawyer Charters and Tours
(410) 397-3743 - (443) 521-2055 - sawyercharters@yahoo.com
http://www.dorchestercountytours.com
Welcome to Dorchester County! We are a family-owned and operated business based right here in Dorchester County on Maryland's Eastern Shore. We have offered packaged Dorchester County tours for more than 15 years to bus companies, travel organizations, senior centers, AARP chapters, church groups, and many other groups who are interested in learning about what Dorchester County has to offer!
The Sawyer - Our Charter Boat



One of the finest boats of the Chesapeake Bay fleet
Introducing......The Sawyer!!!
The Sawyer is our charter boat that we use for the boat cruise portion of our tours, as well as for fishing charters, lighthouse cruises, and other services that we offer.

The Sawyer was built in 2002 by Chesapeake Boats of Crisfield, Maryland. It is 52 feet long and 17 feet wide, and is certified by the U.S. Coast Guard to carry up to 41 passengers!


The Sawyer is equipped with park bench seating in the back of the boat and seating for 8-10 people in the cabin. It also has a canopy that extends along the back of the boat and covers all but the last 10 feet. There is plenty of room for anyone who wants to get out of the sun!
The Sawyer also comes with a pair of brand-new 430-horsepower Cummins marine diesel engines that can get us anywhere we need to go in a timely manner! Our boat is also equipped with state of the art electronics.



But, that's not all! The Sawyer also boasts an award-winning safety record from the U.S. Coast Guard. It has passed every safety inspection from the Coast Guard since the boat was built in 2002. This is a feat that very few charter boats have been able to accomplish. We're still waiting for the Coast Guard to send us our certificate for 2017! You can rest assured that your group will have a safe time aboard our vessel!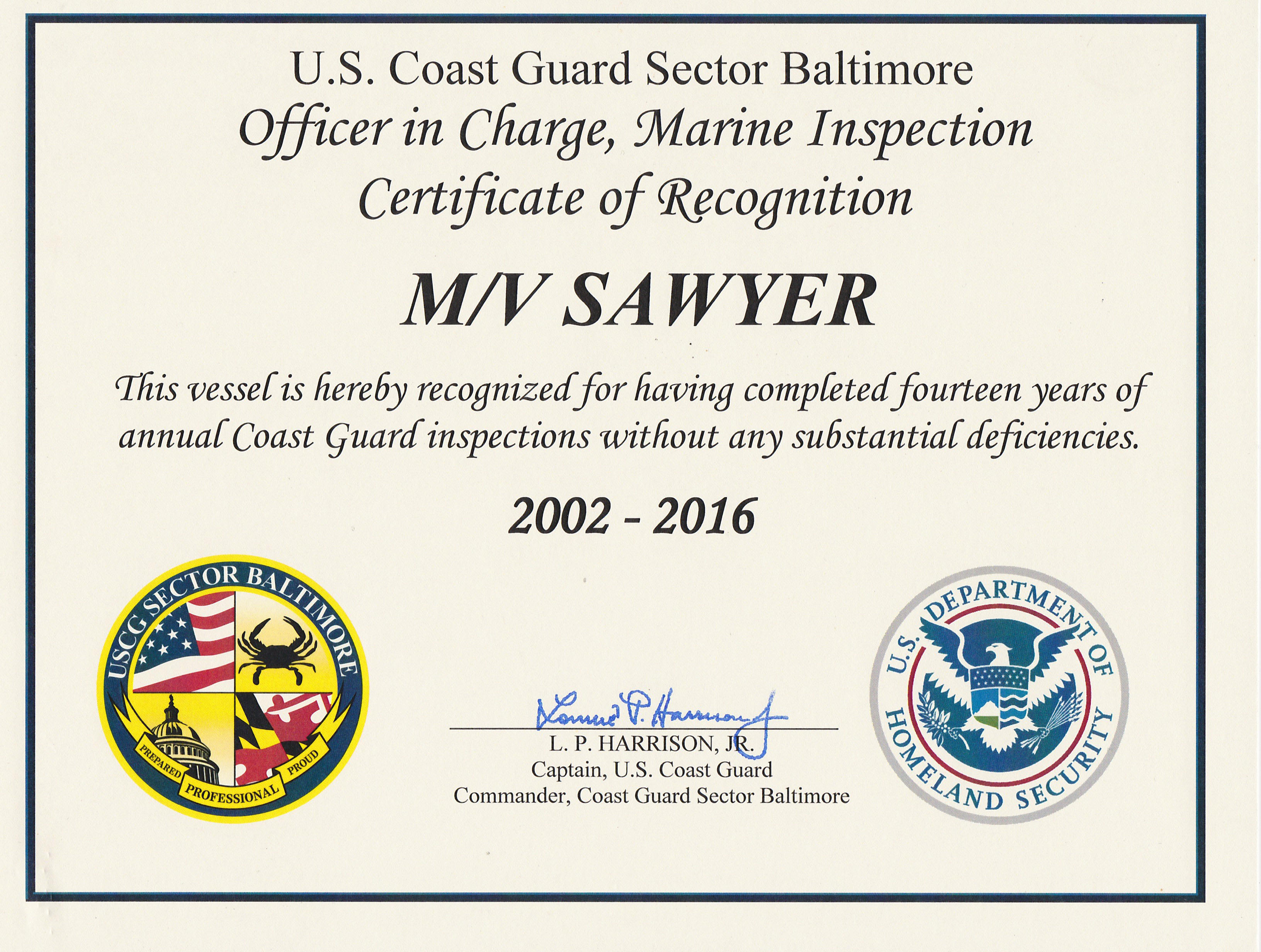 Wanna take a boat ride? Give us a call or email us to book your group tour today!
Sawyer Charters and Tours
(410) 397-3743 - (443) 521-2055 - sawyercharters@yahoo.com