Sawyer Charters and Tours
(410) 397-3743 - (443) 521-2055 - sawyercharters@yahoo.com
http://www.dorchestercountytours.com
Welcome to Dorchester County! We are a family-owned and operated business based right here in Dorchester County on Maryland's Eastern Shore. We have offered packaged Dorchester County tours for more than 15 years to bus companies, travel organizations, senior centers, AARP chapters, church groups, and many other groups who are interested in learning about what Dorchester County has to offer!
Come To The Islands Tour


Hoopers Island & Smith Island

See two special islands on Maryland's Eastern Shore, including one that can only be accessed by boat!

Meet your step-on tour guide at the Dorchester County Visitor Center in Cambridge, Maryland and travel through the countryside of Dorchester County to the fishing and crabbing community of Hoopers Island. See fields of wheat, corn, and soybeans, along with forests that are dominated by the Loblolly Pine tree. Listen as our professional tour guide narrates about the history of Dorchester County and discusses the biggest industries that keep the local economy going. When you go over the Narrows Ferry Bridge onto Middle Hoopers Island, you'll get a clear view of the Honga River on the east side, and the Chesapeake Bay on the west!

| | |
| --- | --- |
| | |
Hop aboard the Sawyer, a 52-foot authentic Chesapeake Bay-built charter boat. Ride from Hoopers Island to Smith Island with Captain Dave Schauber and his crew. Smith Island is the only inhabited island on the Chesapeake Bay that can't be reached by car. Like Hoopers Island, almost everyone on Smith Island either works on the water or has a job that is closely associated with working on the water. Many of the people who live on the island have the original dialect of the English settlers who arrived on the island in the 1600s.
The boat will dock at the Bayside Inn Restaurant, where a family-style meal awaits you. The meal includes crab balls, clam fritters, country-sliced ham, stewed tomatoes, corn pudding, cole slaw, macaroni salad, and much more! A slice of Smith Island cake will be served for dessert!
After lunch, you may want to take some time to walk around the island and check out the scenery. You may want to pay a visit to the Smith Island Cultural Center. Then, enjoy the return ride to Hoopers Island.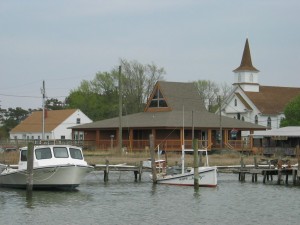 Suggested Itinerary (times are approximate and may be adjusted)

10:00am: Meet step-on tour guide at Dorchester County Visitor Center in Cambridge

11:00am: Board the Sawyer for Smith Island

12:30pm: Family-style meal at Bayside Inn Restaurant

2:30pm: Return trip to Hoopers Island

4:00pm: Return to Hoopers Island / Conclusion of Tour

20-person minimum, 35-person maximum
Sawyer Charters and Tours
(410) 397-3743 - (443) 521-2055 - sawyercharters@yahoo.com
http://www.dorchestercountytours.com